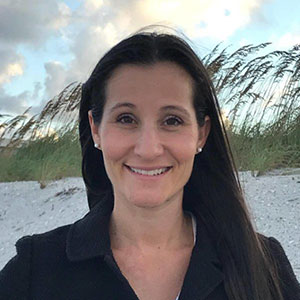 Christina W. Kelcourse is a native Floridian with a strong business background. She is an attorney and became a member of the Florida Bar in 2006. She ran her own law firm, in Jacksonville Florida, specializing in Estate Planning, Elder Law and Probate.
Christina started practicing finance and built her own personal financial planning practice. She learned about sustainable investing and became attracted to business responsibility. She achieved top company awards and prestigious designations of Certified Financial Planner (CFP) and Certified Retirement Planning Counselor (CRPC). She was asked to join the company leadership team and held titles of Director of Financial Planning and Managing Director, responsible for advanced markets, recruiting and developing a team of financial advisors.
Now, Christina is proud to be working as CEO and co-owner of Sunshine Organics and Compost, the first-ever commercial scale food waste composting company.
During her free time, Christina spends time at the beach or hiking with her three young sons, James, Sawyer and Ziggy. She is happily married to her husband Mike Kelcourse, who owns a local recycling and composting business.
Current Board Members
Dolly Penland, President & CEO of Business Results, works with organizations helping them to hire and manage their talent to their highest potential. She specializes in multiple areas including helping businesses grow sales, reduce turnover and develop leaders.
Business Results is a consultancy firm that helps companies improve their bottom line by addressing their most valuable resource: their people. As a PI® Certified Partner firm, Master Training Center, Talent Optimization Consultancy, and a CATIL® Certified Elite Partner firm (the only partner firm in the US offering both PI and CATIL). Dolly helps companies achieve their strategic objectives by employing expert consulting, a wide range of leadership training, and a suite of human capital assessments.
Take the human error out of your talent decisions by using scientifically-validated data to drive your business results. Dolly works directly with business leaders and their management teams to help them connect the right people to the right jobs. When people are doing what they love and are suited to do, they can move mountains. It's All About People.
Mary Tappouni is the President of Breaking Ground Contracting, where she serves as Senior Estimator, Senior Project Manager and Sustainability Consultant. Over her more than 25 years in the construction industry, she has managed projects ranging from small park projects to multimillion dollar facilities that include medical and professional office buildings, historic preservation, retail, schools, university, health & fitness facilities, recreational, military projects and custom green homes.
Mary is passionate about sustainability and green building. She was honored to speak at the Greenbuild conference in Chicago in 2010 and serve as a 2013 member of the Northeast Florida Regional Council Sea Level Rise Committee, which produced a Regional Action Plan. She currently serves on the State Board of Directors for the Florida Green Building Coalition (FGBC). Mary actively represents the construction industry, including in her current role as Associated Builders and Contractors (ABC) of Florida Immediate Past Board Chair. She is also past Chair of the Board of the ABC First Coast Chapter and past Chair of its Women's Council.Mary showcases sustainability at Breaking Ground's office which houses one of the few successful green roofs in Florida.
Mary is a two-time recipient of the Jacksonville Business Journal's Women of Influence Award, the 2009 recipient of the prestigious Best Practice Award for Leadership from Sustainable Florida Collins Center for Public Policy as well as being recognized as the 2009 Small Business Association Small Business Person of the Year for the State of Florida.

Paula Holanchock is an Assistant Professor of Business Administration and Social Entrepreneurship Program Director at Flagler College in St. Augustine, Fla..
Paula encourages socially and environmentally conscious entrepreneurs and business leaders to consider a circular economic approach that embraces the triple bottom line. She inspires compassionate and conscious leaders to create prosperous and inclusive 'life economies' through spiritual decision-making, embodying conscious leadership for systems change, regeneration, and organizational renewal.
Paula earned a Bachelor of Arts Degree in Business Administration and has a Master's Degree in International Business Administration and a Master's Degree in Women, Gender, Spirituality, and Social Justice. Paula is also completing her Ph.D. in Women's Spirituality. Her academic research explores women, gender, spirituality, and gender-based violence.
Kelly Karstaedt has been a proponent of animal welfare and the natural world since childhood. Originally a native of rural Western Pennsylvania, she graduated from Gannon University with a degree in Biology focusing on animal behavior. Kelly then moved to Florida to attend Florida Coastal School of Law, from which she graduated with a Juris Doctor degree in 2008.
Kelly is currently the Executive Director of the Jacksonville Justice Association, a plaintiff's personal injury trial lawyer bar association. In this position, Kelly has been given the amazing opportunity to run a membership non-profit organization and work for and with some of the best trial lawyers in Northeast Florida. Kelly is also the Executive Director of the Jacksonville Chapter of the American Board of Trial Advocates and the statewide Florida Chapters of the American Board of Trial Advocates. While her duties are similar, these two new positions allow for more opportunities to network throughout the State of Florida and spread the message of sustainability.
Kelly has years of experience handling marketing and development needs for multiple non-profit charities and professional associations. It is that passion for bringing people with similar needs together to create beneficial relationships and her passion for protecting this planet that drove her to become involved with the Green Chamber.
Kelly is an avid reader and book club enthusiast. Her cat Medea and border collie Orion have been a sustaining source of inspiration and motivation to continue her efforts to protect our community and see it thrive.
Jessica Handley is a tax manager with BDO USA, a member of BDO International, the world's fifth largest accounting network. BDO delivers assurance, tax, and financial advisory services to clients throughout the country and around the globe.
Jessica has lived in Jacksonville for 31 years. In 2008, Jessica graduated from the University of North Florida with a Bachelor's degree in Accounting. In her senior year she started her tax internship at The LBA Group (now BDO USA, LLP) and has been with the same office since December 2007. Her passion for the job comes from the development of the client relationships. Her industry focus has been mainly restaurants, construction & real estate with experience in multi-state tax.
She also has experience with law firms. Jessica is a volunteer mentor with the Jacksonville Women's Business Center's Athena International. She also served for several years as a member of the Associated Builders & Contractors Florida First Coast Chapter Women's Council Executive Committee.
Craig Barzso brings a diverse background in business, non-profit and government service to the Green Chamber board. As the founder and CEO of LifeWare TEK, Craig spent nearly 25 years leading an extraordinary team in developing Internet-based sales, marketing and supply chain systems for major international brands during the Internet's infancy. These systems helped bring brands like Time Warner, Campbell's, RAI Italy, Nabisco, General Mills, Sara Lee, HP and many others to the Internet for the first time. LifeWare's green credits include assisting HP develop ResourceLink, a logistics system designed to efficiently deliver surplus food products from large food producers to food banks nationwide
After moving on from LifeWare TEK, Craig has participated in a number of local start-ups as principal or investor. He recently launched AltWays LLC as a co-founder with Matthias Herzog, a noted Swiss solar engineer. AltWays' mission is to promote all things green. AltWays acts as an independent analyst and broker for residential and commercial solar installations and is developing a suite of educational programs and online tools to make it easier for consumers and small businesses to go green.
Prior to founding LifeWare TEK, Craig began his early career in the non-profit world, founding a large community performing arts center in Seattle, Washington. Based on this success he was recruited by the National Endowment for the Arts, a federal agency, to serve as a policy analyst advising the presidentially-appointed National Council On the Arts. This experience gives Craig valuable insights into the grant making process.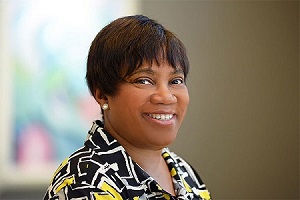 Dr. Simmie Raiford currently serves as the Executive Director of the Schultz Center for Teaching and Leadership.
She has over 35 years' experience as an educator at the elementary school, district, and state level. Leadership experience includes work as a principal of a gifted magnet elementary school, and district director of staff development. In addition, for three years, served as a district-level instructional coach for first-year teachers.
State level experience includes working as an educational policy analyst for the Florida Legislature. Dr. Raiford moved into private sector educational consulting in 2005, working as an organizational performance auditor and educational suitability assessor for facilities master planning.
Since 2010, her work has centered on supporting transformation efforts in schools threatened by state takeover. The focus of that work was on coaching new principals and teachers around key elements of school transformation, namely, instructional effectiveness, collaborative planning, data-driven decision-making, parent and community involvement, conducting classroom observations and providing feedback, designing formative assessments, and curriculum alignment. She has served as in her current role since 2018.
Joe Sampson is passionate about helping people and organizations reach their potential. He worked his way through college in the corporate world.
Deciding in 2003 that the cubicle life wasn't for him, he spent the next 10 years starting companies and growing others. Through the organization's first two years, Joe led One Spark as executive director and COO to become a top-20 event—by attendance—in the United States while expanding to Germany and launching a training academy for entrepreneurs and creatives.
He's led, marketed and tackled revenue challenges for hundreds of brands, events, and community organizations. This experience led him to found multiple new companies including Nuera Marketing, a creative and digital agency where he and his team now support brands around the globe on a broader and even more imaginative scale.
Paul Sifton was born and educated in Ontario, Canada where he grew up in the land development industry. In 1978, he moved to Palm Beach, Fla., to pursue housing development. Ten years later, he had the fortunate opportunity to move to Jacksonville to open a record retention business where he developed software and techniques that are still used in the field today.
He owned and operated a Harley Davidson aftermarket shop, while racing his bikes in multiple locations around the country. Currently, he is involved in the oil and gas industry in offshore Louisiana; in addition to owning an apiary, retail honey outlet called, Bee Friends Farm, with over 400 active hives.
Owns 927 Events and catering. Located at 927 West Forsyth st. Is working to take the old Lee and Cates building at 905 West Forsyth to bring life back to this 100+ as a local grocery.